For the use of Registered Medical Practitioners or Hospital only
PIPERACILLIN SODIUM AND TAZOBACTAM SODIUM FOR INJECTION
Tazoprime 4.5 gm
COMPOSITON:
Each vial contains:
Sterile Piperacillin Sodium USP equivalent to Piperacillin………………………1 gm / 2 gm/ 4 gm
Sterile Tazobactam Sodium equivalent to Tazobactam……………………….0.125 gm/0.250 gm/0.5 gm
DESCRIPTION
Tazoprime injection is an antibacterial – a combination product consisting of the semi-synthetic antibiotic piperacillin sodium and the β-Lactamase Inhibitor tazobactam sodium for intravenous administration. Pipracillin Sodium is derived from aminobenzyipenicillin. The chemical formula for Piperacillin sodium is C23 H26 N5 Nao7 S. It has a molecular weight of 539.6. Tazobactam Sodium, is a penicillanic acids sulfone derived from penicillin nucleus. The chemical formula for Tazobactam is C10 H11 N4 NaO5 S molecular weight 322.3. It is a beta-lactamase inhibitor.
MECHANISM OF ACTION:
The bactericidal activity of Piperacillin Sodium is brought about by inhinnition of septal formation and the cell wall synthesis. Tazobactam Sodium is a β-Lactamase Inhibitor of Richmond Sykes class iii penillinases and cephalosporinases. Tazobactam does not induce chromosomally mediated β-Lactamase at tazobactam levels achieved with the recommended dosage regimen.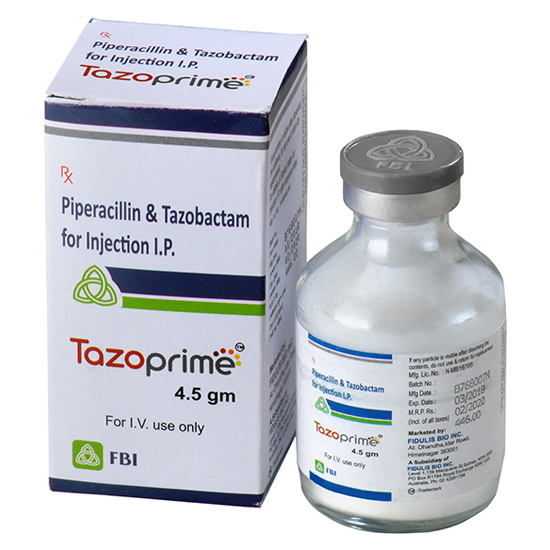 PHARMACOKINETICS:
Absorption
Peak plasma concentration of both piperacillin and tazobactam are attained immediately after completion of intravenous infusion of Piptal with levels of the former being similar to the one obtained after administration of equivalent does of Piperacillin alone. The mean peak plasma concentrations obtained with 2.25g, 3.375g and 4.5g. Piperacillin/Tazobactam are given below.
Dose (Piperacillin/Tazobactam)                                2.25g (2g/0.250g)             3.375g (3g/0.375g)           4.5g(4g/0.5g)
Piperacillin peak plasma levels                                                134mcg/ml                          242 mcg/ml                         298 mcg/ml
Tazobactam peak plama levels                                                  15 mcg/ml                           24 mcg/ml                           34 mcg/ml
Distribution :
Both, Piperacillin and Tazobactam are widely distributed into lungs, female reqroductive tissues ( uterus, ovary and fallopian tube), gallbladder bile, intestinal mucosa and interstitial fluid.
The mean tissue concentrations generally are 50% to 100% of those present in plasma. As with other penicillins, distribution of Piperacillin and Tazobactam into cerebrospinal fluid is low in subjects with non-inflamed meninges.
Metabolism
Piperacilin is metabolized to a minor microbiologically active desethyl metabolite. Tazobactam is metabolized to a single metabolite, which is devoid of any pharmacological and antibacterial activity.
Elimination
The plama half-life of Piperacillin and Tazobactam ranges from 0.7 to 1.2 hrs. Both Piperacillin and Tazobactam are eliminated through the kidney by glomerular filtration and tubular secretion. Piperacillin is excreted rapidly as unchanged drug with 68% of the administered dose excreted in the urine.
Tazobactam is primarily eliminated by renal excretion with 80% of the administered dose excreted as unchanged drug and the remainder as single metabolite.
Pharmacokinetics in special populations:
Renal Impairment patients
The half-life of Piperacillin/Tazobactam is increased in patients with renal impairment. Hemodialysis removes 30%  to 40% of the Piperacillin/Tazobactam dose with an additional 5% of the Tazobactam dose removed as its metabolite. Peritoneal dialysis removes approximately 6% and 21% of the Piperacillin and Tazobactam doses respectively, with up to 16% of the Tazobactam dose removed as the Tazobactam metabolite.
Hepatic Impairment:
Patients with hepatic cirrhosis have increased half-life of Piperacillin ( ~25% ) and Tazobactam (~ 18%). No dosage adjustment is necessary in patients with hepatic cirrhosis.
Anti-bacterial Spectrum
Piperacillin/Tazobactam is highly active against Piperacillin – sensitive microorganism as well as β-lactamase producing.  Piperacillin resistant microorganism.
Gram-positive aembes                                                                 Gram-negative aembes
Staphylococcus aureus (excluding Escherichia Coli
Methicillin/ oxacillin resistant strains)
*Hemophilus  influenza (excluding beta    lactamase negative ampicillin –resistant strains.)
Gram-negative anaembes
Bacteroides fragills group
*Bacteroides fragillis                                                                      *Bacteroides thetaiotamicron
*Bacteroides ovatus                                                                             *Bacteroides Vulgatus
INDICATIONS:
Piperacillin/Tazobactam is indicated for the treatment of patients with moderate to severe infections caused by Piperacillin resistant . Piperacillin/Tazobactam-suscepitble, beta-lactamase producing strains of the microorganisms in the following conditions:
Lower Respiratory tract infections
Urinary tract infections
Pelvic inflammatory disease or post-partum endometritis
Appendicitis
Skin and skin structure infections
Peritonitis
Piperacillin-Tazobactam mono-therapy at a dose of 4.5g every 8 hrs has been shown to be significantly more effective than ceftriaxone plus gentamicin as first-line therapy in febrile neutropenic patients with hematological malignancies* Further, in patients with intra-abdominal infection caused by perforation of the large bowel and rectum or dehiscence of the anastomosis after resection of the large bowel and rectum, piperacillin/tazabactam showed an excellent activity. The study suggested it to be the antibiotic of choice for the initial empirical antimicrobial treatment in this condition on account of its great efficacy against the majority of isolated bacteria, its safety and low toxicity**
CONTRAINDICATIONS:
Piperacillin/Tazobactam is contraindicated in patients with a history of allergic reactions to any of the penicillins, cephalosporins or beta-lactamase inhibitors.
WARNINGS:
Serious and occasionally fatal hypersensitivity reactions have been reported in patients on penicillin therapy, which requires immediateemergency treatment with epinephrine, oxygen, I.V. steroids and airway management including Intubation.
Pseudomembranous colitis has been reported with nearly all antibacterial agents including Piperacillin/Tazobactam.  One primary cause of pseudo-membranous colitis is a toxin produced by Clostridium difficile. Mild cases usually respond to the discontinuation of the drug . Moderate to severe cases should be managed with fluids, electrolytes, protein supplementation and treatment with an antibacterial drug clinically effective against Clostridium difficile.
Precautions:
Abnormalities of coagulation tests such as clotting time, platelet aggregation and prothrombin time have been noted in patients especially with renal failure on β-lactam antibiotics including Piperacillin. This may lead to bleeding manifestations. In such cases, the medication should be stopped and appropriate therapy employed.
Patients of cystic fibrosis may develop increased incidence of fever and rass with semi-synthetic penicillins including Piperacillin.
Drug Interactions
Co-administration of Piperacillin/Tazobactam along withTobramycin has been shown to decrease the Area under the Curve, Renal clearance and the urinary recovery of Tobramycin, pnesumably because of its inactivation in presence of Piperacillin/Tazobactam.
Concomitant administration of Probenecid with Piperacillin/Tazobactam has been shown to prolong the half-life of both, Piperacillin & Tazobactam.
Simultaneous administration of high doses of heparin, oral anticoagulants, or drug affecting blood coagulation system or thrombocyte function requires more frequent monitoring of the coagulation parameters.
Piperacillin alone or Pieracillin/Tazobactam combination has been shown to prolong theneuromuscular blockade of Vecuronium.
It has been postulated that penicillin-aminoglycoside complexes are formed. They are microbiologically in inactive. The mixing of Piptal with an aminoglyciside in vitro can result in substantial inactivation of the aminoglycoside. In case it is required to give concomitant therapy with aminoglycoside, reconstitute and administer the solutions separately.
Drug Laboratory test interactions:
Fasle-positive reaction of glucose in the urine using a copper reduction method has been reported with penicillins including Piperacillin/Tazobactam. Hence patients on Piptal should be recommended enzymatic glucose oxidase reaction tests.
Carcinogenesis, Mutagenesis, Impairment of fertility
Long-term carcinogenicity studies in animals for piperacillin alone, tazobactam aloe or their combination have not been carried out. However, Piperacillin/Tazobactam was found to be negative microbial mutagenicity assays, mammallan point mutation and mammallan cell transformation assay.
Pregnancy : category B drug
When given a maximum recommended human daily doses based on body surface area, re-productivity studies in mice revealed no evidence of impaired fertility or teratogenicity due to Piperacillin/Tazobactam.
Piperacillin and tazobactam are known to cross the placenta in humans. Since animal reproductive studies do not necessarily predict a similar human response, and since there are no direct human studies showing the safety of Piperacillin and Tazobactum in pregnant women. Piptal should be used during pregnancy only if clearly needed.
Nursing mothers.
While the concentration of Tazobactam in human milk has not been studied, Piperacillin is secreted in the milk in small amounts. Hence caution should be exercised while administration of Piperacillin/Tazobactam to a nursing woman.
Pediatric use.
Safety and efficacy of Piperacillin/Tazobactam in pediatric patients has not been established.
Geriatric use.
While age as such is not a criteria for patients over 65 years of age to be considered at an increased risk of developing adverse effects due to Piperacillin/Tazobactam therapy, dosage should be adjusted in the presence of renal insufficiency.
ADVERSE REACTIONS
| | | |
| --- | --- | --- |
| System | Incidence > 3% | Incidence 1-3% |
| Gastrointenstinal | Diarrhea, constipation, nausea, vomiting dyspepsia | Stool changes, abdominal pain |
| Neuro – psychiatry | Insomnia, headache | Anxiety, agitation |
| Cardiovascular | - | Hyper tension, Chest-pain, edema |
| Dermatology | Rash, pruritus | - |
| Respiratory | - | Dyspnoea |
| E.N.T. | - | Rhinitis |
Other minor adverse reactions include hypotension, tacbycardia, arrhythmia, ytrmor, convulsions, vertigo, pseudomembranous colitie, etc.
OVER-DOSAGE
Nausea, vomiting and diarrhea, have been reported to occur with accidental over dosage, similar to the ones observed with usual recommended dosages. In case of a large IV overdose, neuromuscular excitability or convulsions have been reported, particularly in patients with renal failure. In absence of having no specific antidote for Piperacillin/Tazobactam over dosage, the management is essentially supportive.
It is possible to reduce the excessive serum levels of either Piperacillin/Tazobactam by hemodialysis.
DOSAGE AND ADMINISTRATION
Piperacillin/Tazobactam should be administered by intravenous infusion over a period of 30 minutes. (See directions for use)
The usual Piperacillin/Tazobactam Adult dose is 4.5g (Piperacillin 4g / Tazobactam 0.5g) given IV every 8 hours totaling 13.5g (12g Piperacillin sodium / 1.5g Tazobactam sodium).  A similar dose of Piperacillin/Tazobactam is 3.375g given every 6 hours totaling 13.5g has also been used.
In patients with renal Insufficiency, the following dosage schedule is recommended:
| | |
| --- | --- |
| Creatinine Clearance (ml/min) | Recommended Dosage Regimen |
| >40 – 90 | 3.375g every 6 hrs |
| 20- 4- | 2.250g every 6 hrs |
| <20 | 2.250 g every 8 hrs |
For hemodialysis patients, the maximum dose is 2.25g every eight hours.
However, since hemodialysis removes 30% - 40% of Piperacillin/Tazobactam in 4 hours, one additional dose of Piperacillin/Tazobactam should be administered following each dialysis period. For patients with renal failure, measurement of serum level of Piperacillin/Tazobactam will provide additional guidance for adjusting dosage.
Treatment duration :
The usual duration of treatment is between seven to ten days. However, the recommended duration of treatment for nosocomial pneumonia is between seven to fourteen days. In other conditions, the duration of therapy should e guided by the severity of infection, the clinical response and bacteriological progress.
Directions for use
To be reconstituted with 20 ml of Sterile Water for Injections BP
Shake well until dissolved.
Reconstituted Piptal solution should be further diluted (recommended volume per dose: 50 ml. to 150 ml) in a compatible intravenous diluents (0.9% Sodium Chloride for Injection or Dextrose 5% and administered by infusion over a period of atleast 30 minutes.
Stability following reconstitution
When reconstituted as directed, solution are stable for 24 hours when stored at room temperature (25°C) and stable for 48 hours under refrigeration (2°C to 8°C)
Pharmaceutical Precautions:
Piperacillin/Tazobactam should not be mixed with other drugs in a syringe or infusion bottle since compatibility has not been established. Whenever Piperacillin/Tazobactam is used concurrently with other antibiotic, the drug must be administered separately.
STORAGE:
Store between 15°C-25°C.  Protect from light and moisture.
PRESENTATION:
Single vial in a carton with insert in 1.125gm, 2.250gm, 4.5gm.
*Gorschluter M et al, Piperacillin/Tazobactam is more effective than ceftriaxone plus gentamicin in febrile neutropenic patients with hematological malignancies a randomized comparison. Support Care Cancer 2003 Jun, 11(6):362-70. Epub 2003 Apr 11
**Vyhnanek F. Faltyn J, Lochmann O, initial empirical antimicrobial therapy with Piperacillin/Tazobactam in intra-abdominal infections due to perforation of the large intestine and rectum and in postoperative complications after resection of the large intestine and rectum Rozhi Chir. 2002 Dec:81(12)617-21.