HEPAMON
Compositions
Each 10ml ampoule contains
L-Ornithine L-Aspartate            5gm
Water for Injection  IP               q.s.
Indications
Liver disease, especially treatment of hepatic coma and pre-stage of coma.
Dosage & administration
Acute hepatitis : 1-2 ampoules (10ml ~20ml) daily.
Chronic hepatitis, hepatic cirrhosis: 2~4 ampoules (20ml~40ml) daily.
The dosage could be increased for severe cases.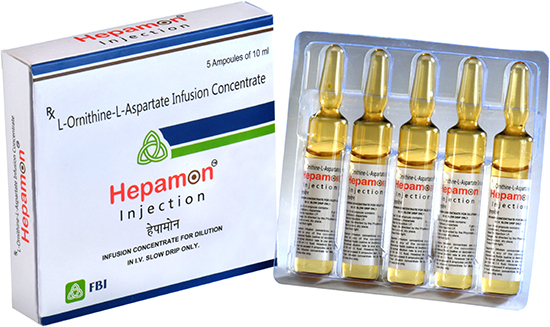 Hepatic coma and pre-stage of coma: The initial dosage should not exceed 20 ampoules (200ml) daily according to the symptoms. After 8 ampoules (80ml) are administered within first 6 hours, administer 4 ampoules (40ml) every 6 hours for next 18 hours. Mix with appropriate solution and inject as drip infusion.
Caution for us
Warning
Carefully break off the ampoule since glass particles produced by ampoule breaking may be mixed and may cause the adverse reaction. Since caution is reauired for children and elderly.
Contraindication
Patients with lactate acidosis, methanol intoxication, fructose-sorbitol intolerance,frutose-1,6,-diphosphatase deficiency.
Precaution
In case of administrating high dosage ,urea level in blood and urine should be examined
Adverse reaction
Rarely laryngeal burning sensation or nausea mau occur.
Inform your doctor in case of any adverse reactions related to drug use.
Storage
Store in a cool place, protect from light.
Package
5 Ampoules of 10ml.
Manufactured & Marketed by:
FIDULIS BIO INC.
At: Dhandha, Idar road, Himatnagar 383001
A Subsidiary of
FIDULIS BIO INC.
Level 1,139 Macquarie St. Sydney.NSW 2000, PO Box R1784.
Royal Exchange NSW 1225, Australia.